Top MiraFlex MPC Park Deck System in Rancho Dominguez, CA
MiraFlex MPC Park Deck System
MiraFlex MPC Park Deck restores and protects concrete from water intrusion, chlorides, freeze thaw damage, carbonation and impact/abrasion of vehicular traffic. It's extremely durable, cost-effective, and "breathable," allowing moisture vapor to escape reducing corrosion of steel reinforcing and eliminating blistering or delamination.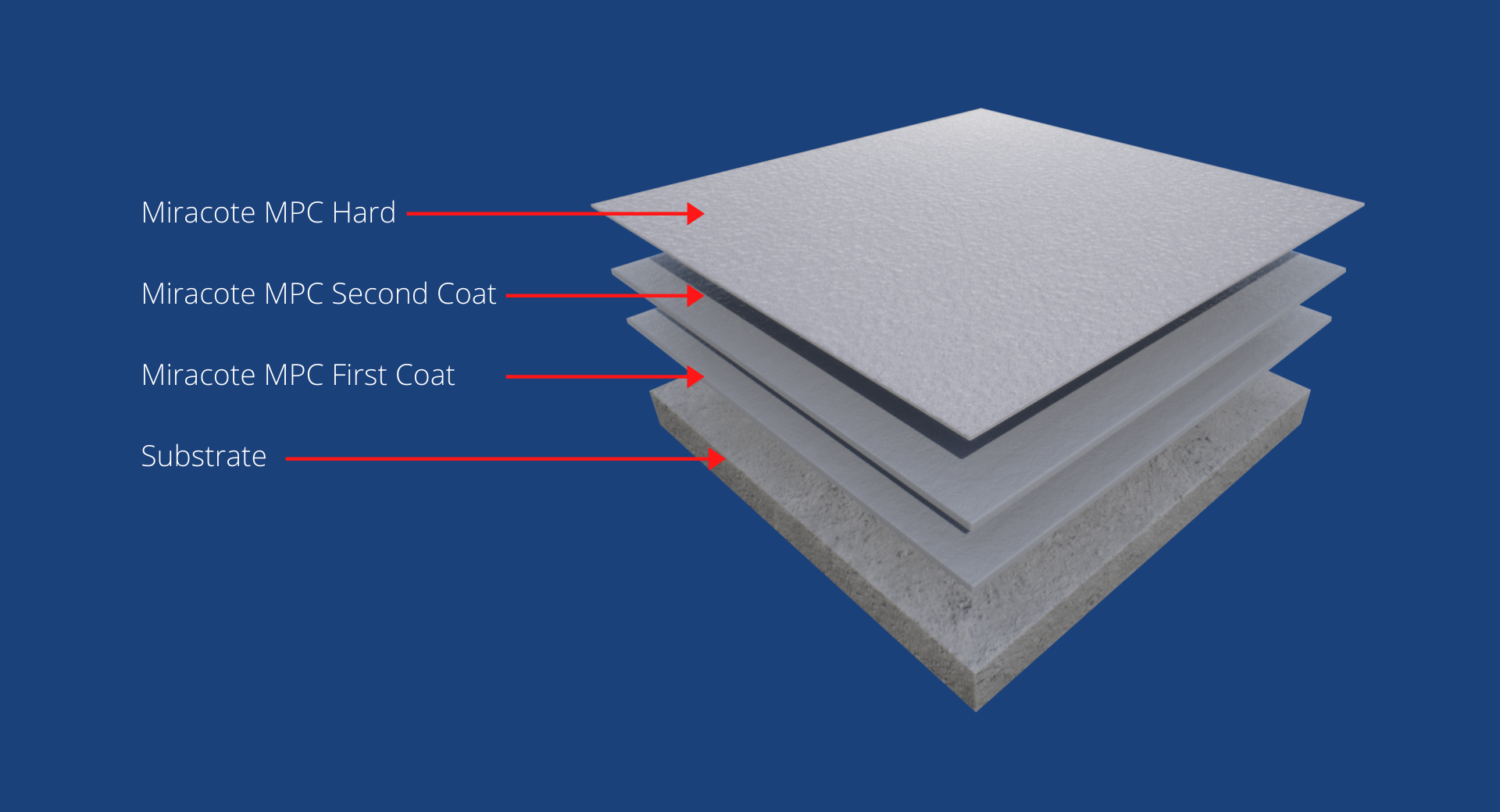 Miracote MPC (Multipurpose Protective Coating) is a polymerized, two component, cementitious protective coating that can be applied over a variety of surfaces including concrete, masonry, metal, wood and tile. It consists of a unique rubber-like polymer liquid that is mixed with a proprietary cement and aggregate blend. Miracote MPC is then applied in two or more coats by trowel, brush, roller, spray or squeegee to a typical thickness of 1/16" (16mm). Designed for both exterior and interior use, Miracote MPC restores and protects concrete surfaces from the consequences of exposure to water and chloride intrusion, freeze thaw damage and carbonation. Miracote MPC is an extremely durable, cost-effective protective coating that is "breathable" and allows for the transmission of inherent moisture vapor within concrete without blistering or de-lamination. By lowering moisture content within the concrete, Miracote MPC helps reduce the potential for corrosion of steel reinforcement.
Product Technical Data Sheet:
Installation guide
Brochure:
CSI:
SDS:
Installation Guides:
Details:
Where to use:
Concrete Restoration and Protection projects

Waterproofing protection on new and existing parking decks
Horizontal surfaces, columns, walls and ceilings
Restoration and protection for stadiums and sports arenas
Waterproofing and protection of balconies and breezeways
Advantages:
Moisture vapor permeable - reduces the potential for corrosion
Protects against penetration of water, chlorides and carbonation
Ideal for exterior/interior, pedestrian and vehicular traffic
Excellent adhesion to damp concrete substrates
Lower labor and material costs
Reduced life cycle costs - prolongs the service life of parking decks
One product for all three coats
No broadcasting or recovery excess sand
Less sensitivity in adverse weather conditions
No odor - VOC and LEED compliant
Substantially reduced corrosion at a 95% Confidence Limit when applied with MiraPrime Aqua-Blok XL*
Color charts approximate actual color. Final color appearance is affected by lighting, surface texture and method of application. Final color approval should be made from physical sample.
Contact Miracote
Have a question, need a sample, looking for a contractor? Send us a message or give us a call.
(800) 692-3502