Miracote - MiraPrime Aqua-Blok XL
MiraPrime Aqua-Blok XL is a clear, single component, odorless, water-based, penetrating colloidal silicate liquid primer that integrally waterproofs concrete, mortar and other cementitious structures. Based on scientifically superior inorganic mineral waterproofing technology, Aqua-Block XL penetrates deep into the capillary structure of concrete and mortar to permanently enhance physical properties and the dynamics of waterproofing performance. Exhibiting highly reactive and hydrophilic properties, Aqua-Blok XL quickly migrates through waterways and capillary tracts to chemically react with and convert free water-soluble calcium hydroxide into a dense crystalline network of insoluble calcium silicate hydrate gel within the concrete pore structure. This conversion process purges unwanted chlorides and contaminants from within the concrete matrix, seals and densifies, permanently blocks moisture ingress, reduces moisture vapor emissivity and enhances resistance to aggressive chemical substances.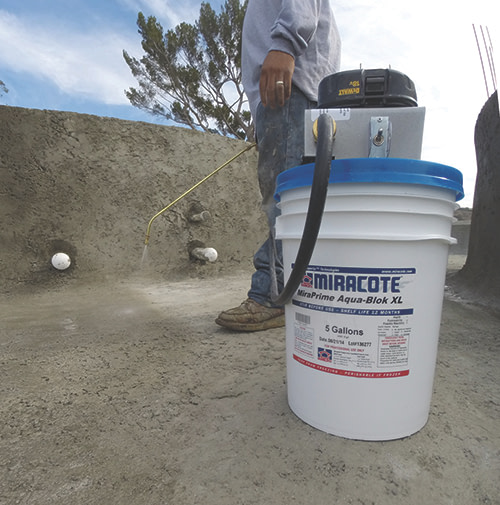 Product Technical Data Sheet:
Installation Guides:
Marketing:
Safety Data Sheets:
Where to use:
Media Centers
School Locker Rooms and Restrooms
Laboratories
Food & Beverage
Kitchens
Emergency Rooms
Clean Rooms
Mechanical Rooms
Manufacturing
Assembly Lines
Loading Docks
Control Rooms
Chemical Storage Areas
Plant Locker and Shower Rooms
Plant Cafeterias
Parking Decks
Pool Decks
Kitchens and Bathrooms
Driveways
Patios and Balconies
Garage Floors
Lobbies
Shopping Malls
Automobile Dealerships
Stadium Concessions
Advantages:
Deep penetration up to 4" depending on concrete matrix porosity
Water thin micro-crystalline technology - penetrates fast.
Purges/expels embedded chlorides and blocks re-entry.
Enhances concrete physical properties - maintains breathability.
Significantly reduces the migration of efflorescence.
Application from positive or negative side.
Significantly reduces moisture vapor emissivity.
Hydrophilic moisture barrier - resists hydrostatic pressures.
Permanent and self-healing integral waterproofing.
Enhanced protection of reinforcing steel to corrosion.
Meets USDA standards for non-incidental food contact.
Will not sustain mold, mildew or fungal growth.
Non-toxic, low odor and environmentally safe.
Cures, seals, densifies and hardens new/existing concrete.
Contact Miracote
Have a question, need a sample, looking for a contractor? Send us a message or give us a call.
(800) 692-3502